Up2Somethin' is comprised of seven of the most in-demand musicians in the Rochester, NY area. Brief bios on the individual members of the band follow, but when it comes down to it, it is the composition of the band as a whole that is most important to a potential client and/or fan of the group.  With former members of Duke Jupiter, Me & the Boyz, Rochester Brass & Electric, The Half Ton Horns, and The Latin Vibes, this group is already being regarded as a top local "Premier Band." The players are not sure that they want that pressure on them, but it really is amazing that these seven musicians are all in the same group. Up2Somethin' plays a mix of music from the 70s through today featuring one of the best female singers around, male vocals, a hot horn section and a tight, funky rhythm section. Focusing on music that will get a dance floor pumping and keep it jam packed all night long, the group concentrates on providing a high energy show with tight harmonies, blow-you-away horn section parts, and hot grooves.  All of the music is set on top of a high energy stage show.
Evyn Grassl (lead vocals)
Evyn has had a love  for singing since a very young age, performing professionally well before honing her skills and earning a degree in Jazz Voice Performance at the University of Miami: Frost School of Music.
Prior to joining Up2Somethin' in 2013, Evyn had been performing with multiple bands; including her family-based blues band, "Smokehouse" (2004 – 2014), and her acoustic duo, "The Ev n Bri Duo" (2007 – 2014), who had quite a following in the Finger Lakes area.  The duo was invited to perform as the opening act for several musicians; including Alligator/Telarc recording artist, Shemekia Copeland, as well as Rochester's own Lou Gramm, from Foreigner.  Evyn was a finalist in Rochester's own "Idol" competition at Lovin' Cup in 2013, which opened up many doors for her as a vocalist!  The band is blessed to have run across Evyn and her talent, and you'll feel the same once you hear the velvet timbre and soulful delivery of her extraordinary vocals!
Rickey Ellis (bass and vocals)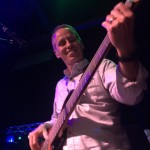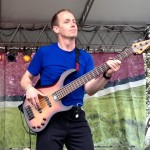 Rickey, a 2014 inductee to the Rochester Music Hall of Fame as member of national recording artist Duke Jupiter, has been busy with numerous other music projects since that time; to name just a few: Rock Candy, Reporter, and the Stormy Monday Blues Band. More recently, he headed up sixteen years of promoting, managing, arranging and playing with the cover band Me &t heBoyz. His influences include  Paul McCartney,  Jocko  Pastorius, and Marcus Miller. Rickey will be the first to tell you that he's not much into the flash style of playing the bass, but musician's  in town agree that Rickey plays with exceptional sound and feel, and in as deep a pocket as anyone around. Rickey has genuine and animated enthusiasm when performing, always with humor! He is terrifically excited about his latest project: Up2Somethin'!
Ron Waterbury (Trumpet and Vocals)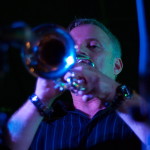 Ron has been playing around town for several years now, enjoying  work with area cover bands and   several of the area's professional big bands. Every now and then you could even catch him sitting in a pit (He says, "West Side is the best!"). Ron's jazz standards chops are getting better all the time, too! Growing up on a diet of Maynard, Ron also appreciates the great influences of Miles and Chet, but as a commercial player, seeks to emulate the models of session players like LA's Wayne Bergeron or New York's own Jim Hynes, a former teacher. Ron is very excited to be performing with such a talented and fun band that plays the perfect compliment of dance, funk and rock.
Bill Tiberio (Saxophone and vocals)
In addition to being an accomplished and versatile saxophonist and woodwind player, Bill Tiberio is a music educator. He has over 25 years of experience in the field of public music education, and has been at Fairport (NY) high school since 1988.   At Fairport, Bill conducts the top Concert Band, two jazz ensembles, jazz combos, pit orchestras, chamber ensembles, and teaches woodwinds throughout the district. He is the former president of the NY State Chapter of the International Association of Jazz Educators, and is on the summer jazz faculty for the Eastman Community Music School high school program and the founder and director of the Hochstein School of Music summer jazz camp.  Bill is also a regular faculty member for the Tritone Jazz Fantasy Camps, held in Rochester in the summer. He is the founder and conductor of the Eastman Community Music School High School Chamber Winds, and is the conductor of the University of Rochester Wind Symphony and the University of Rochester Jazz Ensemble.  During the 2010-11 school year, Bill started the Eastman Community Music School Jazz Educators Ensemble, and also taught the Thursday Night Jazz Lab Band at Ithaca College.  He will continue to lead those two ensembles in 2011-12.
Mike Reed (Drums and Percussion)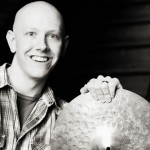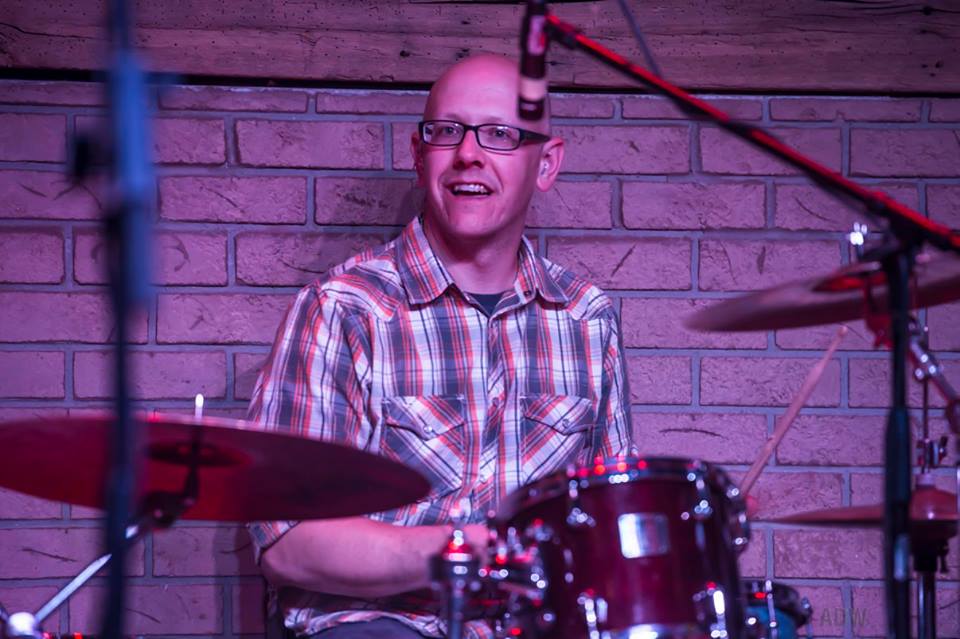 Mike is a musician, entrepreneur, web designer, technology enthusiast and Assistant Director of the Center for Music Innovation and Engagement at the Eastman School of Music. He holds a bachelors degree in Music Business and is a MBA candidate at the University of Rochester.
Joe Chiappone (guitar)
Joe is regarded as  one of the area's best guitar players, and there is no doubt why, once you hear the smooth funky rhythms and energetic solos this guy plays. Joe has been in demand with the area's most successful bands, including Rochester's own funk band (as well as House Band for the Rochester Music Hall of Fame), Primetime Funk. When he's not playing, Joe stays close to the music in his own shop, Northfield Music, near the canal in Pittsford, NY. Need unbelievable rhythm chops? Need a new guitar, amp, sheet music? Either way, Joe is the man!
Pete Merlo (Keyboards and Vocals)
Working with most forms of keyboard instruments for many years, Pete has settled in on developing a 'soundscape' approach by utilizing MIDI technology and multiple synthesizers.  Layering sounds and effects is evident in most popular musical arrangements.  Producing this sound live is somewhat an art in itself. Over a lengthy career, Pete has performed coast-to-coast as well as being active in the local music scene.  Pete is one of the founding members, musical director and contributing arranger for the Spanky Haschmann Swing Orchestra.  Pete has most recently performed with Me & the Boyz and Rochester Brass & Electric. In addition to live performance, Pete has composed and produced soundtracks for commercial applications. "Up2Somethin' is an exciting new project that I'm thrilled to be a part of", says Pete.  "It brings together some of the most creative musicians in the Upstate New York area.  This band really grooves and is always focused on making every performance an exceptional event!"